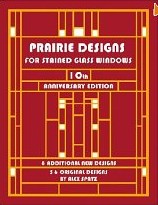 Prairie Designs for Stained Glass Windows
This is the only book that I know of, to date, in the stained glass industry of original prairie style window designs. I learned about Frank Lloyd Wright in the early 90's when I had to do research on his style in order to design lamp shades for my employer. I was really taken by his "prairie style" of design and felt a connection to my own work. Making the designs for this book was a joy because I really like this style of design.
Paperback: 48 pages
Publisher: Cliffside studio
Dimensions: 10.7 x 8.5 x 0.3 inches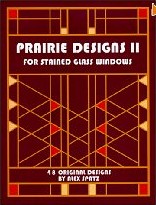 Prairie Designs II for Stained Glass Windows
"Prairie Designs II" is the sequel to "Prairie Designs for Stained Glass Windows". Like its predecessor, it contains 48 original Prairie window designs in rectangles, circles and free-form shapes in a variety of complexities. It is different in that it develops motifs, such as triangles, in different ways and that it gives a prairie interpretation to real-life objects, such as flowers and plants.
Paperback: 40 pages
Publisher: Cliffside studio
Language: English
Dimensions: 10.7 x 8.4 x 0.1 inches